Aliona
Confirmed Profile?
That means our local representative has interviewed this lady using either background checks, passport. and/or other identifiable verification.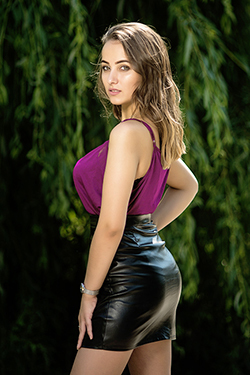 Personal Information

ID: 29618

Age:
20
Zodiac:
-
City:
Vinnytsia
Country:
Ukraine
Looking For An Age Group:
20 - 75
Height:
5'4" = 163cm
Weight:
121 lbs = 55 kg
Eyes:
brown
Hair:
brown
Occupation:
Make-up artist
Education:
High school
Religion:
Christianity
Marital Status:
Single
Kids:
none
English Proficiency:
Basic
Languages:
English
More About Me:
As a young girl, I painted on whatever I could get to my arms. I remember how surprised my mom was to come home and see a wall in our living room badly painted in all kinds of flowers. As I grew up and my painting skills became better I decided to try myself in make-up. So nowadays I help women to enhance their beauty, but I do appreciate natural beauty and I believe a woman first of all should be beautiful inside and have high morals.
My Ideal Match:
I am hopeless romantic and I think that love and relations are also sort of art.. For me this is important that my beloved man always cherish me and treat me as a real lady. I believe that woman is someone who should bring harmony, tenderness and beauty in world and relations between people. I want to be like a beautiful flower for my man and I would appreciate if he always showers me with compliments, attention and surrounds me with care. I will always believe in you, be source of your inspiration. I want to make the most special gift for you – be faithful to you and stand by your side till the end.. and paint your portrait haha.