Anna
Confirmed Profile?
That means our local representative has interviewed this lady using either background checks, passport. and/or other identifiable verification.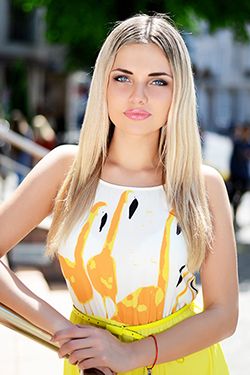 Personal Information

ID: 12857

Age:
32
Zodiac:
Libra
City:
Vinnytsia
Country:
Ukraine
Looking For An Age Group:
32 - 61
Height:
5'8" = 173cm
Weight:
143 lbs = 65 kg
Eyes:
green
Hair:
blonde
Occupation:
Manager
Education:
Below high school
Religion:
Christianity
Marital Status:
Single
Kids:
none
English Proficiency:
Basic
Languages:
English, Russian
More About Me:
I am active and agile person, like to travel a lot. My favorite city where I like to go, is Odessa, there I feel myself comfortable and quite sincere as at home. On the weekends I like to go with friends out of town for fishing, picking mushrooms and berries. In the evenings we kindle fire and sing a song with a guitar.
My Ideal Match:
In the relations between men and women sometimes happens wonderful and inexplicable things. It's hard defies logic and turn us in a surprise. "How do these people can be together?", "Think they absolutely do not fit each other?" But they live happy in spite of all laws and public opinion. Than we say, "this is love ", there is the concept of energy, so when people have same energy they stay together and it can be hard to be separately.