Arina
Confirmed Profile?
That means our local representative has interviewed this lady using either background checks, passport. and/or other identifiable verification.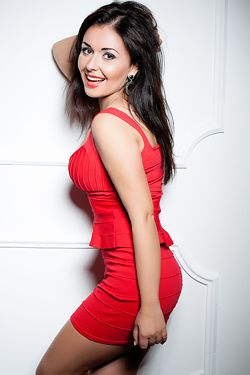 Personal Information

ID: 12287

Age:
37
Zodiac:
Aquarius
City:
Cherkasy
Country:
Ukraine
Looking For An Age Group:
28 - 55
Height:
5'5" = 165cm
Weight:
130 lbs = 59 kg
Eyes:
brown
Hair:
black
Occupation:
Manager
Education:
Graduate school
Religion:
Christianity
Marital Status:
Single
Kids:
1
English Proficiency:
Good
Languages:
English, Russian
More About Me:
I like dancing very much as on my mind dance is great expression of emotions. Also I like reading books and cooking. I dream to travel to the most romantic points of our planet and still I love parties in the pleasant company! Like any woman, I adore shopping! I am an educated, stylish, feminine woman. I am passionate and romantic! I can be a true friend and a perfect wife! I try to live with only good emotions and I adore sharing them with others! I like to be positive and happy in life. I like to be honest and express my feelings openly. I can be serious, and I can be funny.
My Ideal Match:
I need my partner as my second half, as my protector, my helper, man, who is responsible and know he has a family, but not just live with me. I don't have any high requirements. I just want my man will be kind, loving, helpful and know his responsibilities. I don't need a superman. Just a normal man!