Elena
Confirmed Profile?
That means our local representative has interviewed this lady using either background checks, passport. and/or other identifiable verification.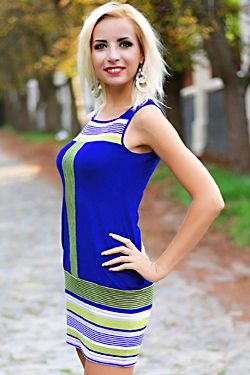 Personal Information

ID: 12850

Age:
38
Zodiac:
Gemini
City:
Mariupol
Country:
Ukraine
Looking For An Age Group:
31 - 58
Height:
5'8" = 173cm
Weight:
130 lbs = 59 kg
Eyes:
green
Hair:
blonde
Occupation:
teacher
Education:
Graduate school
Religion:
Christianity
Marital Status:
Single
Kids:
none
English Proficiency:
Intermediate
Languages:
English, Russian
More About Me:
I was born in the heart of the eastern Ukraine - in Donetsk. I was fond of music from the childhood, that is why I was taught how to play the piano. In 2005 I've graduated from the Horlovka Pedagogical University and taught children during 8 years. My dream is to make a loving family. Besides, I adore children and I want to create something exciting for them.
My Ideal Match:
To my mind, each partner must trust each other whatever happens. Moreover, loving hearts must not be jealous. Each partner must be honest. I would like to meet honest, strong, self confident, respectful, interesting man who will love me and know how to make me happy!