Irina
Confirmed Profile?
That means our local representative has interviewed this lady using either background checks, passport. and/or other identifiable verification.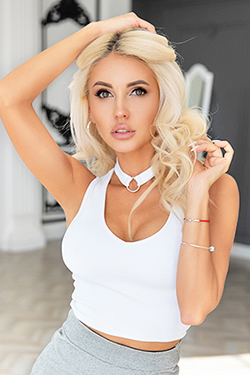 Personal Information

ID: 29574

Age:
40
Zodiac:
Taurus
City:
Vinnytsia
Country:
Ukraine
Looking For An Age Group:
35 - 75
Height:
5'5" = 165cm
Weight:
121 lbs = 55 kg
Eyes:
green
Hair:
blonde
Occupation:
Manager
Education:
High school
Religion:
Christianity
Marital Status:
Single
Kids:
1
English Proficiency:
Excellent
Languages:
English, Russian
More About Me:
Sometimes I am funny and unpredictable. Sometimes I am charming and romantic. I like to be natural, not to hide my feelings and constantly show them. It is great to feel caring and caring for loved ones. I like to make surprises to my friends, to make them happy if I can. I am a real woman with no fake intent. I'm not here for friendships. And I'm not here for a lifetime correspondence. I am a real and open woman. I am passionate and very very hot, and I am sure that my future man will never be bored with me. I know how to make this life interesting and exciting. I am ready for a date that will change two lives, my life and the life of my future partner.
My Ideal Match:
Every time I start thinking about my ideal partner, I imagine a man who can enjoy life, a person who has a good sense of humor, who will love to laugh with me and those I can rely on in any situation. I want my future partner and future husband also to be my closest friend, so that we share all the moments together.