Lena
Confirmed Profile?
That means our local representative has interviewed this lady using either background checks, passport. and/or other identifiable verification.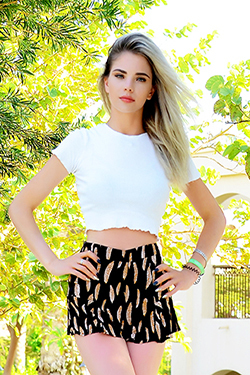 Personal Information

ID: 29671

Age:
22
Zodiac:
Libra
City:
Vinnytsya
Country:
Ukraine
Looking For An Age Group:
25 - 60
Height:
5'8" = 173cm
Weight:
117 lbs = 53 kg
Eyes:
blue
Hair:
blonde
Occupation:
Cook
Education:
High school
Religion:
Christianity
Marital Status:
Single
Kids:
none
English Proficiency:
Good
Languages:
English
More About Me:
I am definitely a giver – with my family, friends and in relations. It makes me happy when I see that people around me smile. I have my own ways to bring joy to your life.. I will cook for you something tasty ( oh this is also a way for me to make myself happy too – cooking helps me to relax and forget about all the fuss in the world), I will always take care of our leisure time, plan our vacations ( if you want me to) –I love moving and find out something new all the time – new places, new emotions is something all of us need to feel alive. I try to surround myself with people who have positive attitude to life. This is really difficult for me to be around people who always complain about life
My Ideal Match:
Just be honest and sincere with me. I know this sounds very simple, but this is the priority for me. I just can't tolerate lies. There is so much lies in the world.. I just want to feel safe with you, I want to be sure you will not break my heart one day. I promise to be faithful and honest with you no matter what. As for me this is always better idea to discuss our problems and be direct, rather than hide something but do no feel comfortable with each other. Do you agree with me?