Olga
Confirmed Profile?
That means our local representative has interviewed this lady using either background checks, passport. and/or other identifiable verification.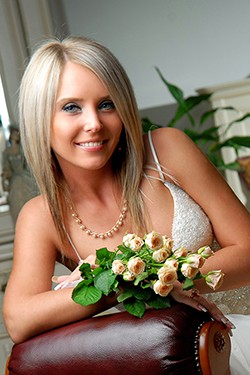 Personal Information

ID: 12253

Age:
31
Zodiac:
Taurus
City:
Vinnitsa
Country:
Ukraine
Looking For An Age Group:
22 - 26
Height:
5'7" = 170cm
Weight:
117 lbs = 53 kg
Eyes:
blue
Hair:
blonde
Occupation:
Manager
Education:
Graduate school
Religion:
Christianity
Marital Status:
Single
Kids:
none
English Proficiency:
Good
Languages:
Russian
More About Me:
I'm an ordinary girl with an open heart. Easy-going, communicative and caring, if I find my love I'll be totally dedicated. I adore life and do not want to spend it in vein, that is why sometimes I am stubborn, but only because I know what I want and need. I am always smiling, not because I act, but because I am happy to everything new in my life.
My Ideal Match:
I came to this site with a hope to find my future husband. An ideal man for me is a man who is strong–willed, caring, honest, reliable, romantic, powerful. In one word I want to find a real man. No, not an ideal man but a real one. I'm sure he's waiting for me somewhere in the world!